Autres sites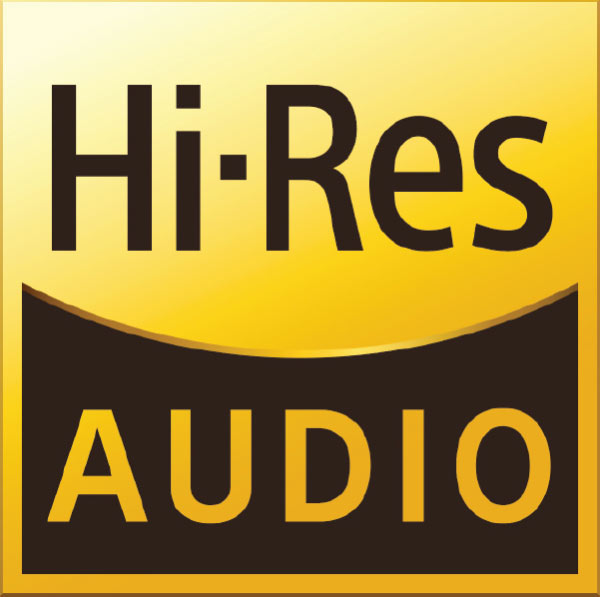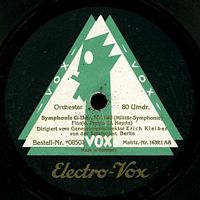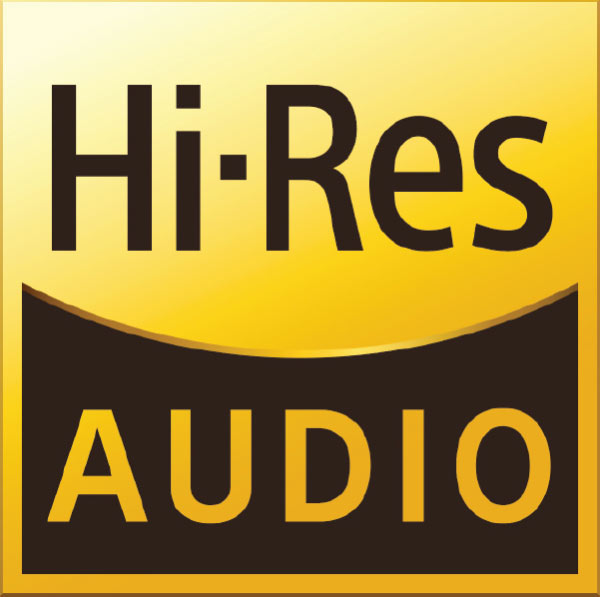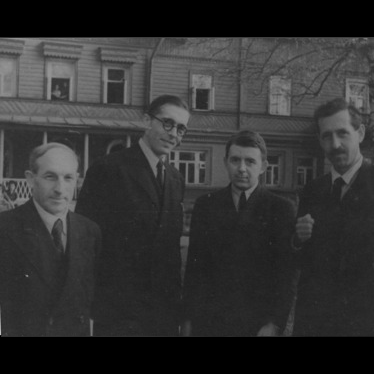 Paul Michael von Ganski's record club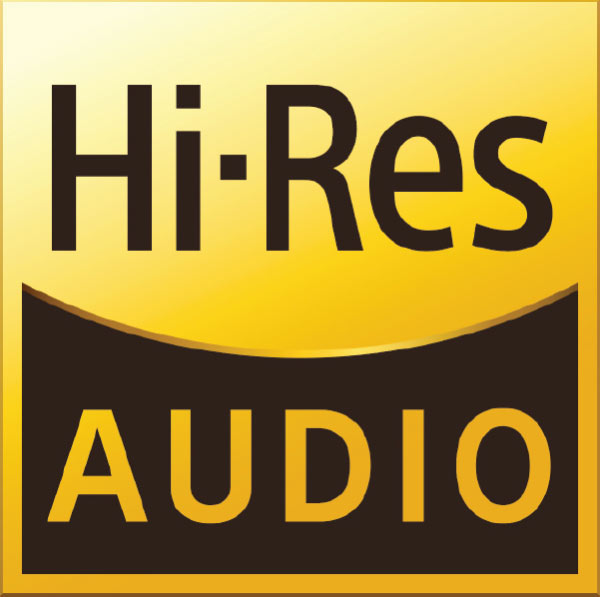 Günther Ramin & Karl Straube à Paris en 1938
Johann Sebastian BACH
27 & 29 octobre 1938  (Eglise St-Eustache) Matthäus Passion: Karl Straube Thomanerchor Orchestre de la Société Philharmonique de Paris
19 décembre 1938 (Salle Pleyel) Weihnachts-Oratorium: Günther Ramin Philharmonisches Chor (Berlin) Orchestre de l'Association des Concerts  Pasdeloup 
L'Oratorio de Noël (Weihnachts-Oratorium) est l'oeuvre que Günther Ramin a le plus dirigé. En décembre 1938, alors qu'il était directeur du Chœur Philharmonique de Berlin depuis 1935 à la suite de Carl Schuricht, il l'a donné au cours d'une tournée européenne. Le programme du concert parisien, le 19 décembre à la Salle Pleyel, mentionne une audition intégrale avec 180 chanteurs et en tout 250 exécutants.
Le concert a eu beaucoup de succès: « La séance s'acheva au milieu d'acclamations enthousiastes. Comme la foule ne se décidait pas à céder la place, M. Ramin dut faire répéter un numéro de la partition » (Maurice Imbert).
Il se trouve que le Cantor de Leipzig Karl Straube, précurseur en matière de style d'interprétation, est venu diriger une exécution intégrale de la Passion selon Saint-Matthieu en deux concerts à l'Eglise Saint-Eustache, les 27 et 29 octobre 1938,  avec en tout et pour tout 68 choristes du Thomanerchor et les musiciens de l'Orchestre de la Société Philharmonique de Paris en formation de chambre. Le vieux maître Straube était à l'époque bien en avance sur son disciple. Critique de Maurice Imbert: cliquer ICI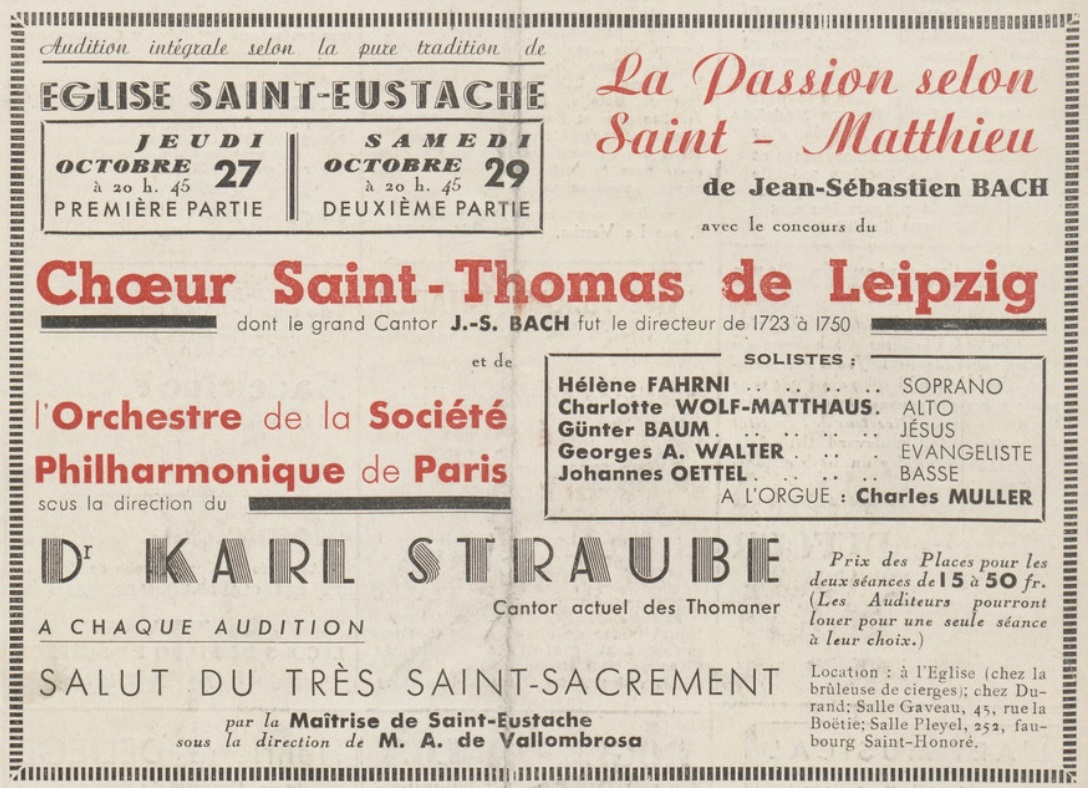 Par ailleurs, la lecture de la critique, très positive d'ailleurs, du concert de Günther Ramin, signée par Maurice Imbert dans le numéro du 30 décembre 1938 de la revue « L'Art Musical » montre que, par intégrale de l'Oratorio de Noël, il fallait entendre les trois premières « journées », qui sont en effet consacrées à la période de Noël, alors que les trois suivantes célèbrent en fait le nouvel An. Critique de Maurice Imbert: cliquer  ICI
La pratique de donner les seules trois premières Cantates se retrouvera ensuite après-guerre dans les concerts donnés chaque année en décembre par Ramin avec le Thomanerchor de Leipzig, ainsi que dans l'enregistrement effectué à Hambourg en décembre 1955 avec bien sûr des effectifs choraux bien moins importants et un orchestre de chambre.
Cet enregistrement, le seul en stéréo de G. Ramin, est disponible ici: 
https://concertsarchiveshd.fr/gunther-ramin-i-bach-weihnachts-oratorium-kantate-1-3-stereo/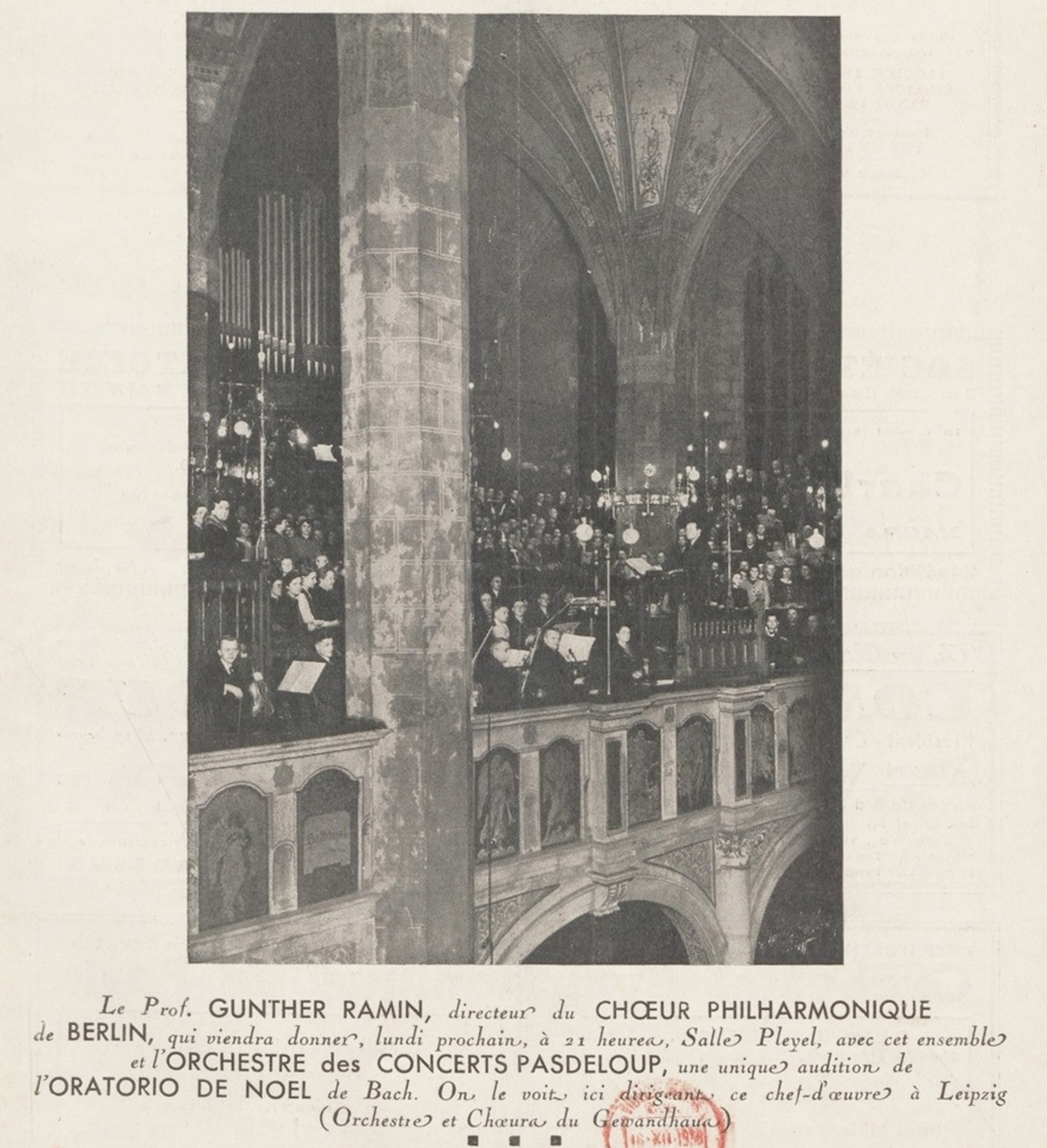 The Christmas Oratorio (Weihnachts Oratorium) is the work Günther Ramin most conducted. In December 1938, during his tenure as Director of the Berlin Philharmonic Choir that started in 1935, following Carl Schuricht, he performed it during an European tour. The program of the concert in Paris, on December 19 at Salle Pleyel, mentions a complete performance with 250 musicians, including 180 singers.
The concert met with great success « The event ended in the midst of enthusiastic acclaims. As the crowd would not leave, M. Ramin had to give an encore » (Maurice Imbert)
It happens that Karl Straube, the Cantor of Leipzig, then well ahead of time as regards performance practices, came to conduct at the church « Saint-Eustache » a complete performance in two concerts of the Matthäus Passion (October 27 and 29 1938), with no more than 68 choristers from the Thomanerchor and a chamber orchestra comprised of members of the « Orchestre de la Société Philharmonique de Paris ». Straube, the master, was then well in advance of his young disciple Ramin. Review by Maurice Imbert: click HERE
Moreover, the very positive review of Günther Ra.min's concert written  by Maurice Imbert in the December 30, 1938 issue of « L'Art Musical » tells us that, for the Christmas Oratorio, complete performance meant the first three « days », that are dedicated to the Christmas period, whereas the three next ones indeed celebrate the New Year. Review by Maurice Imbert: click HERE
The practice of performing only the first three cantatas was again in force after the war in the concerts given each december by Ramin and the Leipzig Thomanerchor, as well as in the recording made in December 1955 with of course a much smaller choir and a chamber orchestra.
This recording, the only in stereo by G. Ramin, is available here:
https://concertsarchiveshd.fr/gunther-ramin-i-bach-weihnachts-oratorium-kantate-1-3-stereo/